Schedule
Click here to register for AI Freestyle Sessions
Next week's registration opens for skaters on Fridays at 6:00pm. To the view the upcoming schedule in advance (including rink information), click HERE.
Join our Freestyle Contact List to be notified when schedules are available and updated!
Maximum number of skaters is 25 skaters on all levels of Freestyle Sessions.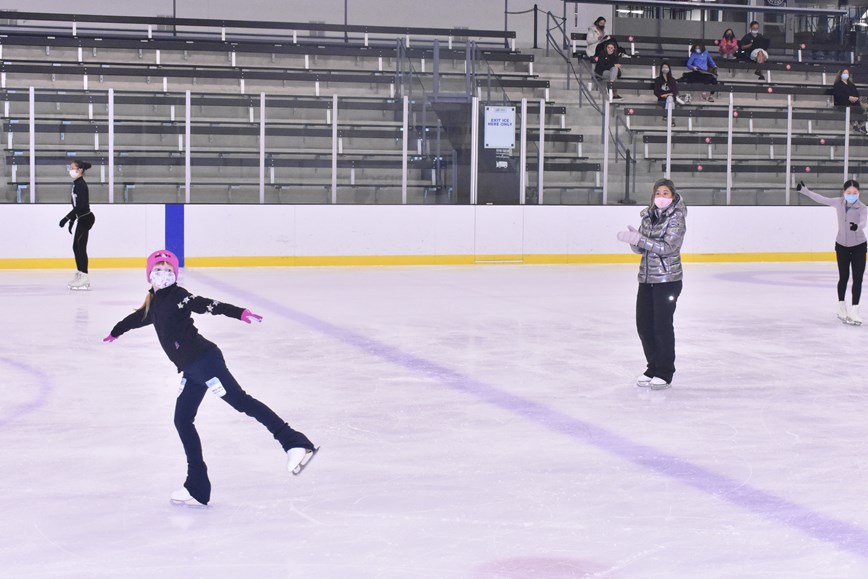 Return to Play Protocols
Please review our Return to Play protocols before registering for Freestyle Sessions, Learn to Skate, or Skating Academy. 
Failure to comply with these guidelines will result in loss of skating & coaching privileges
Return to Play
Level Requirements
Open Freestyle Session Requirements
Open to any level of figure skater. Singles Free Skating, Pairs, or Dance only. Rental skates are not available or allowed on Open Freestyle Sessions. No hockey skates allowed. Private lesson instructor strongly encouraged to promote safety and Freestyle Session etiquette. Learn to Skate Public Session Passes are NOT valid on this session or any type of Freestyle Session.
Medium Freestyle (Single Axel & Up) Requirements
Skaters must be able to land a fully rotated Single Axel.
High Freestyle (Juvenile FS & Up) Requirements
Skaters must be currently competing at the USFS Well Balanced Juvenile Free Skate level or higher, have passed the USFS Juvenile Free Skate test, AND be able to land a fully rotated Double Loop, Flip, or Lutz. Singles Free Skating only. No solo ice dance, ice dance teams, or pairs.
Pricing
Please note: There are no refunds or credits on Freestyle Sessions.
1 hour session - $13
30 minute session - $6.50
Basic Package (10) - $125
$12.50 per session
Bronze Package (25) - $306.25
$12.25 per session
Silver Package (50) - $600
$12 per session
Gold Package (75) - $881.25
$11.75 per session

Freestyle Session is a 1 hour session.  Please note that 1 hour passes may only be used during 1 hour sessions. Each Freestyle Package is to be used by 1 skater only and they are not interchangeable.

You may redeem a Freestyle Session credit plus a $6 upsell charge to skate on a Freestyle Plus session, or a $4 upsell charge to skate on a Freestyle Flex session.

Anaheim ICE Freestyle Packages can be redeemed at The Rinks - Anaheim ICE, Lakewood ICE, Poway ICE, Westminster ICE, and Yorba Linda ICE. They may not be redeemed at Great Park ICE, as their pricing is different.

30 Minute Freestyle Session Package (40) - $230
$5.75 per session
Purchase Freestyle Packages
To purchase passes:
Log in
Scroll down to "Passes"
Select "Add Passes" to your card
Check out
Note: The Rinks freestyle passes are only valid at The Rinks (not Great Park Ice)
If multiple family members will be using passes, please purchase under the account holders name and then all family members can use passes.
To apply passes:
Select Freestyle Sessions through our registration portal
BEFORE you check out, when the session is in your shopping cart, click "Apply Pass"
Check out
Rink Music Player
In order to play your music with the overhead sound system:

1. You must purchase a Rink Music key tag for $10 in the Program Office.

2. You must join as a member online at www.RinkMusic.com and upload your music online. This key tag and music will play at The Rinks and Great Park ICE with the same key tag and membership.

*Please note, you may not use your phone or CD to play music on a Freestyle Session. All music must be uploaded online.
Guest Coach Protocol
Contact Skating Manager, Chris Pottenger, for approval at least 24 hours in advance
Submit proof of:

Coach Compliance (successfully passed background screen and completion of SafeSport Training)
Verification of current coach liability insurance


Certificate holder must list:
Great Park Ice & FivePoint Arena, Irvine Ice Foundation, Ice Management LLC, City of Irvine, Orange County Great Park Corporation, their respective agents, officers, and employees. 
888 Ridge Valley
Irvine, CA 92618
Attn: Jesse Campbell

To view the full insurance requirements, click here

Pay $35 Daily Guest Coaching Fee BEFORE taking the ice (on the day you are teaching) or $130 The Rinks - Weekly Guest Coaching Fee* on Monday. 

Go into your Customer Account through Dash
Scroll down to "Memberships"
Click "Add Membership"
"Guest Skating Coach (Anaheim)" - Add to Cart
Check out
More Information
For more information, contact:
Anaheim ICE Program Office
714.535.7465 ext. "0"
programoffice@therinks.com
Anaheim ICE Skating Manager – Chris Pottenger
cpottenger@therinks.com
The Rinks Figure Skating Director – Alex Chang
achang@therinks.com