2019 ANAHEIM HOLD'EM TOURNAMENT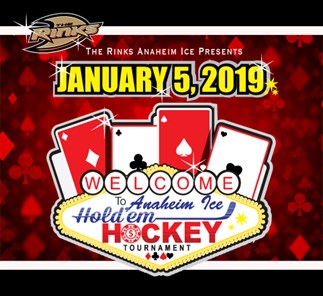 OBJECT OF THE GAME: Get the best poker hand among all the teams and win the tournament and prizes!  (Get as many playing cards as possible by winning to increase your chances for a good poker hand).
HEAD TO HEAD WITH THE BEST HAND WINS THE TOURNAMENT!
Sat, January 5, 2019
6 game guarantee (20 minute run time)
Teams consist of 6 skaters, 1 goalie
All games played at The Rinks - Anaheim ICE
USA Hockey sanctioned - (#18.19.CS-28)
Fee: $240 per team 
Registration deadline: December 22, 2018