September 30, 2020 3:30 PM
York, Johnson picked for U.S. World Junior evaluation camp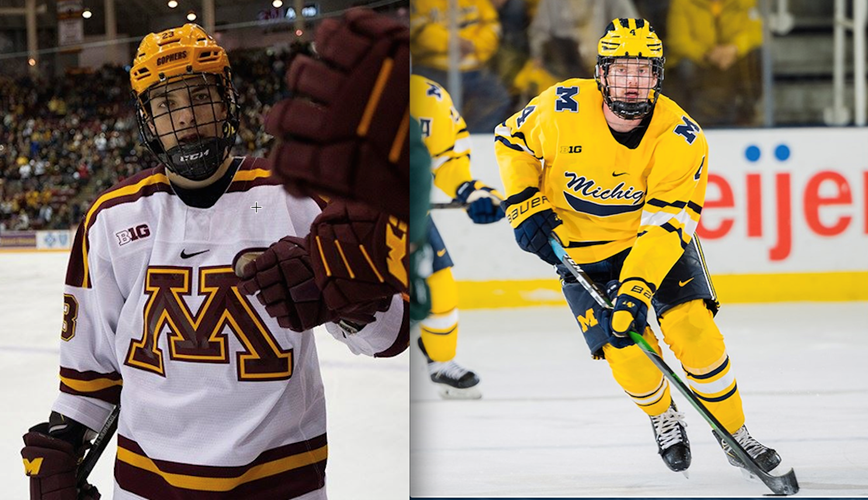 By Chris Bayee
Longtime Anaheim Jr. Ducks players Cam York and Ryan Johnson were among 39 players invited to the U.S. National Junior Team Evaluation Camp, which will be conducted Oct. 8-13, USA Hockey announced on Sept. 29.
The camp, which originally was to have taken place from July 24 to Aug. 1, initially included 43 players. The camp will take place in Plymouth, Mich., home of the U.S. National Team Development Program. 
This marks the second year in a row York and Johnson have been in the mix for the U.S. National Junior Team. York made the 2020 Team USA squad that competed in the World Junior Championships at Ostrava and Trinec, Czech Republic, while Johnson was one the final cuts. York, who potentially is one of nine returning players for Team USA, played in all five U.S. games at the 2020 WJC.
The 2021 WJC will be held from Dec. 26 through Jan. 5 at Edmonton and Red Deer, Alberta.  
A year ago, York and Johnson became the first Jr. Ducks players to be taken in the first round of an NHL Entry Draft. The Philadelphia Flyers selected York 14th overall and the Buffalo Sabres tabbed Johnson 31st overall.
The defensemen, who were longtime teammates on the Jr. Ducks' 2001 birth year team coached by Craig Johnson and Scott Niedermayer, each played NCAA hockey in the Big Ten during the 2019-20 season. 
They are two of 27 players with ties to the Jr. Ducks who have made Division I college hockey commitments during the past seven seasons. Both made significant impacts during their freshmen seasons. 
York was a finalist for the Big Ten Rookie of the Year after amassing 16 points in 30 games. He was fourth on the Wolverines in scoring, first among freshmen. He blocked 54 shots and was plus-9. 
Johnson had eight assists and played in all 37 games for the Gophers as a freshman. 
Neither defenseman is a stranger to international competition.
York, who played two seasons for the prestigious U.S. National Team Development Program, has won multiple medals – including gold – for Team USA at the U17 and U18 levels.  
Johnson has won gold medals while representing Team USA at the 2018 World Junior A Challenge and the 2017 Five Nations Cup. In addition, he helped Sioux Falls capture the USHL's 2019 Clark Cup and helped Santa Margarita Catholic win two USA Hockey Youth National Championships.