July 16, 2021 11:31 AM
Four Current Jr. Ducks among seven taken in NAHL Draft
By Chris Bayee
Seven players with ties to the Anaheim Jr. Ducks, including four who played either 16U AAA or 18U AAA hockey with the club this past season, were selected in the annual North American Hockey League draft on July 14.
The four current Jr. Ducks are; right wing Marko Giourof and defenseman Benji Rutkai, who played 18U, and right wing Merril Steenari and center James Hong, who played 16U. Both teams competed in the USA Hockey Youth Nationals in May.
Three former Jr. Ducks - forwards Tyler McNeil, Tristan Rand and Jayden Price - also were selected. The NAHL is a Junior A league that has more players make Division I college commitments than any other U.S. junior league.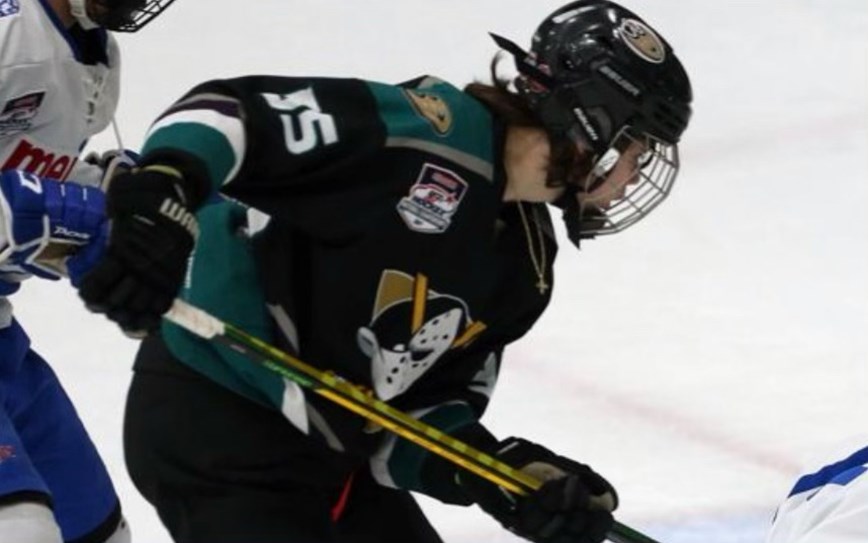 "The NAHL is an older league, and it's another avenue for players to get where they want," Jr. Ducks Director of Player Development Alex Kim said. "The league has a good track record of college commitments and does a good job developing its players."
Giourof, a 2003 birth year, was second on the 18U team with 48 points (22 goals) in 46 games. An elusive skater and stickhandler, he was taken in the fourth round (99th overall) by Danbury.
"Marko was a big part of our team," 18U coach August Aiken said. "He scored the game-winning goal in overtime at Districts to punch our ticket to Nationals. I leaned on him a ton to produce offense."
Rutkai, a 2002, was second among the team's defensemen in scoring with 19 points (3 goals) in 55 games. He was picked by Corpus Christi in the sixth round (150th).
"It's nice to see Benji get drafted," Aiken added. "He's a great example of if you work hard and get better there will be opportunities there for you. When I needed someone to stop the other team's top line I turned to him. He also scored some big goals for us - two at Districts and another one at Nationals."
Steenari, a 2004 who will represent Team USA in the upcoming U18 Hlinka Gretzky Cup in Eastern Europe later this summer, was taken in the second round (54th overall) by St. Cloud. He was second on the 16Us with 73 points (37 goals) in 59 games.
Hong, also a 2004, led the 16Us with 80 points (36 goals) in 50 games. Chippewa selected him in the ninth round (240th overall). Hong and Steenari were selected in the United States Hockey League's Futures Draft in 2020, with Hong going in the third round to Waterloo and Steenari being taken by Sioux Falls in the seventh round.
McNeil, a 2002, was the highest pick, going in the second round (42nd overall) to Johnstown. He played last season for Fresno and Philadelphia of the NCDC and had 25 points (14 goals) in 29 games.
Rand, also a 2002, was selected in the fourth round (108th) by Bismarck. He had 14 points (6 goals) in 16 games for Oklahoma City of the NA3HL, a feeder league for the NAHL. 
And Price, a 2001, also played in Philadelphia last season after the BCHL cancelled its season. He had 19 points (8 goals) in 22 games. He was picked in the seventh round (177th) by Amarillo.
The seven selections give the Jr. Ducks at total of 35 picks in the NAHL draft in the past four seasons. More than three dozen former Jr. Ducks were playing junior hockey last season.
"It's exciting for these players to get drafted," Aiken said. "It shows the commitment of the Jr. Ducks staff to developing and promoting players."
Overall, 31 players with ties to the club have made Division I college commitments in the past seven seasons.