June 18, 2021 2:28 PM
USA Hockey picks seven Jr. Ducks for Select Camps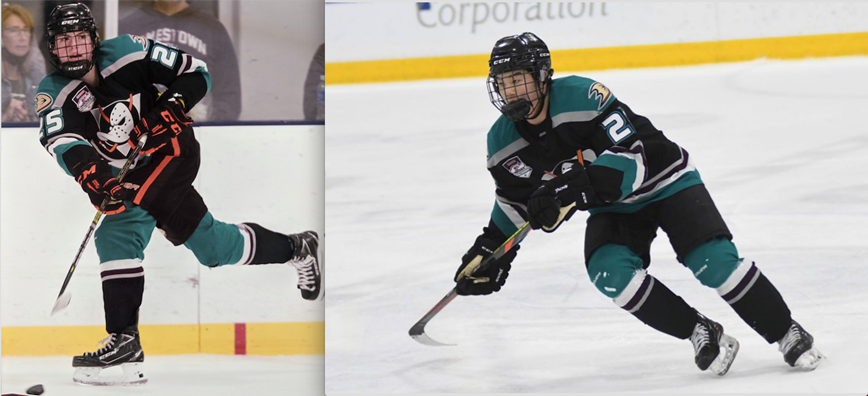 Seven players with ties to the Anaheim Jr. Ducks have been selected to USA Hockey's Select Camps at Northtown Center and Daemen College in Amherst, N.Y.
Forwards Merril Steenari and Ben Ivey, 2004 birth years who helped the Jr. Ducks 16U AAA team reach Nationals in the spring will participate in the Select 17s camp from June 23-28. Steenari was fourth on the 16s in scoring with 64 points in 47 games, and his 31 goals tied for the team lead. Ivey was fourth in scoring (47 points) and fifth in goals (18).
Players who emerge from that camp will participate in the Hlinka Gretzky Cup Camp from June 28-30. The roster for Team USA's Hlinka Gretzky Cup squad will be picked from the latter group and participate in the annual tournament on Aug. 2-7 in Breclav, Czech Republic, and Piestany, Slovakia.
Forward Christian Kim and defenseman Lukas McCloskey, also part of the 16U AAA this past season, will be joined by defenseman Aidan Falvo, who played on the 15U AAA team, and forward Josh Armbruster, a longtime Jr. Duck, at the Select 16s camp, which is for 2005s, from July 7-13. Kim was third on his team in scoring (33 points) and second in assists (36). Falvo had 14 points and McCloskey 12 for their respective teams. 
Goaltender Jack Kavetsky, a 2006 who played on the Jr. Ducks' 14U AAA team, was picked for the Select 15s camp on July 13-18. Kavetsky had a 2.60 goals-against average and .908 save percentage.