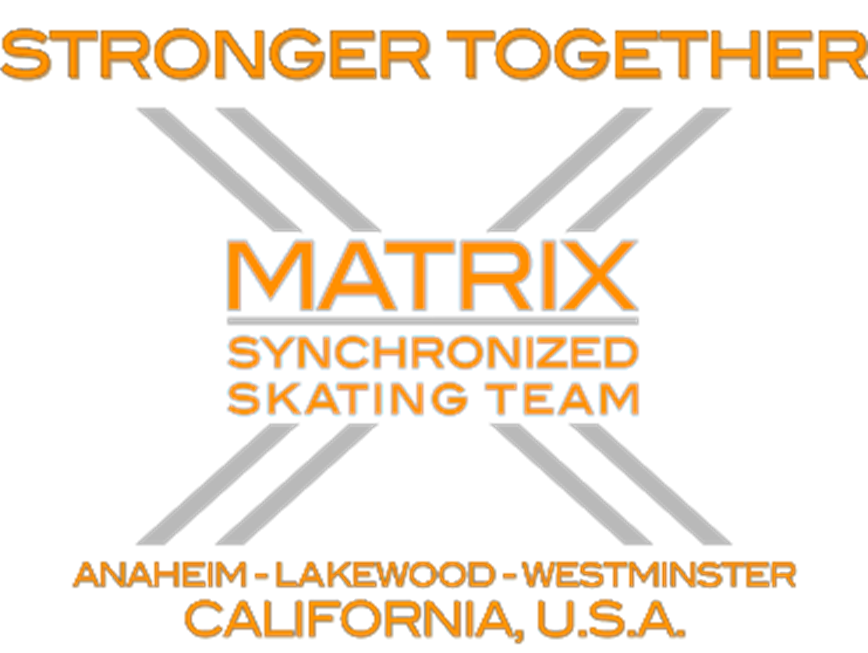 What is "Synchro"?
Synchronized skating (synchro) is one of the fastest growing disciplines in the world of figure skating. A synchro team is composed of 8-16 athletes who perform a program to music.  These programs contain various formations such as circles, lines, blocks, wheels, and intersections.
Figure skating has typically been an individual sport, but with the recent growth of synchronized skating, athletes now have the opportunity of being part of a team, while still participating in the sport they love individually.
Team Goals
The primary goals of Matrix are to build team camaraderie, good sportsmanship,moral values and to achieve excellence at the local, national and international levels of synchronized skating. Many of the members of the Anaheim Amateur Figure Skating Association have graduated from high school and have gone on to colleges that offer synchronized skating programs to continue their skating passion.
How to join
Each year Matrix hold an open try-out where skaters are asked to perform a variety of skating moves ranging from forward and backward skating to footwork sequences.
For more information about Matrix Synchronized Skating please visit their website: www.matrixsynchro.com or contact Sarah Sherman Matrixsynchro@outlook.com
More Info
Fundraising
Figure skating can be an expensive sport and the Anaheim Amateur Figure Skating Association offers fundraising opportunities for our skaters to raise money for team transportation expenses, practice ice, costumes and other related expenses. Some of our fundraising opportunities include the purchase of scrip, recycling, hosting a golf tournament and participating in holiday gift wrapping. Besides raising money for their teams, the skaters and parents also use this time to bond together and create friendships that will last a lifetime.